WATER Treatment UNIT
Powered BY SOLAR POWER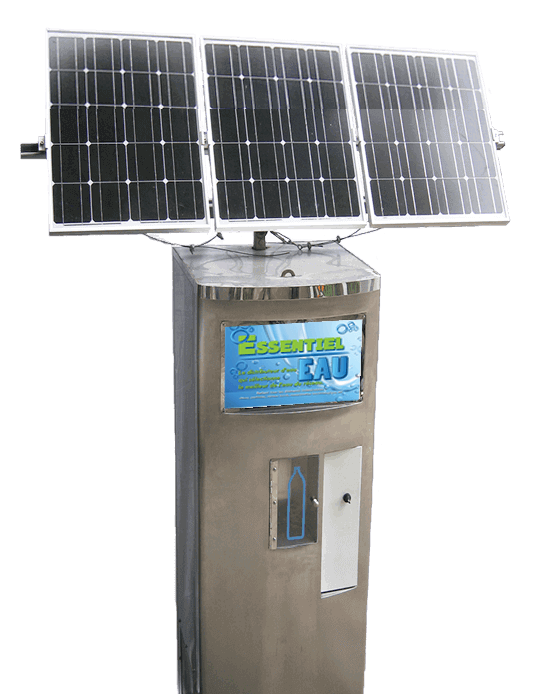 Production capacity: 3000 liters of drinking water per 24h.
Possible configuration: water treatment unit without Solar Panel module.
Water Treatment Unit Powered by Solar Power
Easy maintenance
Adaptable for any type of water.
Simple to install, delivered assembled "ready to install".
Total autonomy by solar panel (s) and batteries.
The fiberglass crate is waterproof, so it can be exposed to rain.
Very low maintenance cost, thanks to the use of automatic or manual filter washing.
A typical configuration for obtaining drinking water from surface water
(adjustable according to the properties of the incoming water and the required quality):
Coarse pre-filtration (manual washing).
Feed pump.
Medium pre-filtration (automatic washing).
Fine pre-filtration (automatic washing).
UV sterilizer – Ozone.
Membrane filtration (automatic washing).
An integrated tank of 160 liters in stainless steel.
Ozone injection into the tank.
Delivery pump 15 liters / minute at 3 bar pressure.
Pressure ball made of stainless steel.
Post-UV sterilizer.
Post-filter activated carbon.
Online Monitoring through Android/iOS app (sales, maintenance and operation management)
All bodies are 304 stainless steel food Grade.
Water Treatment Unit Powered by Solar Power
2 batteries: 4 days autonomy,
with a minimum production of 1000 liters per 24 hours during the days without sun.
Need More Water Vending Machine Model That Suits your Business?