water vending machine manufacturer
Drinking Water Vending Machine. After more than 20 years of experience in manufacturing water vending machines, we are trusted by customers in 38 countries all over the world. We guarantee the operating life of our machines – most of the machines produced 20 years ago still work. We are manufacturer and export economical drinking water vending machines, mobile water plants, UV sterilizers, ozone generators, R.O machines, pool solutions.
water vending machines  in stock
Click above to explore our selection and have your water vending machine on its way to you in no time.
Stay refreshed and stay ahead with our quick and hassle-free shipping!
Click above to explore our selection and have your water vending machine on
its way to you in no time.
Stay refreshed and stay ahead with our quick and hassle-free shipping!
Drinking Water Vending Machine
Standard Model
Production capacity: 1500-3000 liters/day. and RO tank: capacity up to 250 liters.
Smart Water Vend Model
You can easily design and build your own automatic water dispenser to suit your business.
High-Quality Stainless Steel
Long lasting body structure (Stainless Steel 304 grade.)
Wall Mounted Model
Wall Mounted Water Vending Machine, Window-Mounted Water Vending Machine.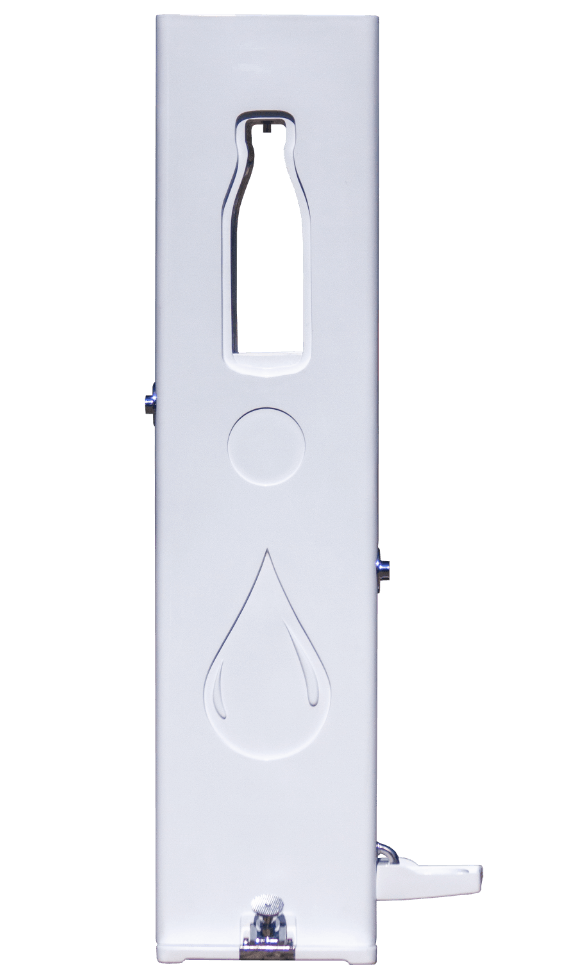 AquaVille
Slim Machine
Drinking water distributor accessible to all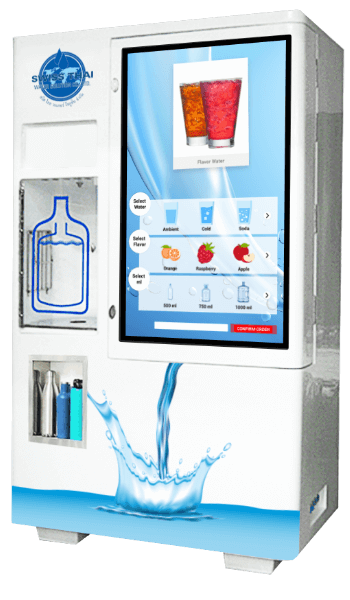 Coming in November 2022
The future of water vending machine
Meeting appointment
please identify your available date and time.
Customized for your business
We offers variety of water types, filtration systems and payment systems to match your business project. Economical drinking water vending machine
Pre filtration
Media Filter lifetime 10 years
Standard
Flavor
Flavor 1
Flavor 2
Flavor 3
Flavor 4
No flavor
Main filtration
Ultra filtration
Nano filtration 1500
Nano filtration 3000 and +++
Ro filtration 1500
Ro filtration 3000 and +++
Water size
500 ml
1000 ml
2 l
5 l
18 l
20 l
and +++
Water type
Ambient
Cold 45 L/H
Cold 60 L/H
Cold+Soda 60 L/H
Payment option
Coin acceptor
Bill acceptor
Coin changer
Credit/debit card reader
Smart card reader
Smart card programer
RFID card reader
RFID card programer
E-Wallet
Ultra-Filtration
Ultrafiltration is a process using a membrane that is most commonly used to remove suspended or dissolved solids from a liquid.
Reverse Osmosis
Reverse Osmosis (the highest degree of purity) is a membrane that separates 95-98% of inorganic dissolved material from the water molecules by applying pressure to the solution.
UV Sterilizer
Extremely effective in killing microorganisms such as airborne and waterborne bacteria, viruses, yeasts, and molds.
There are over 30 models available to suit your business.
HOW OUR SYSTEM IS BETTER?
Reduce Health Problems
Reduce all health related problems : itchy skin, burning red eyes, chlorine smell
Superb Water Quality
Water is treated to become clean, safe and crystal clear.
Remove Chloramines
Can remove all types of chloramines (mono-, di- and tri- chloramines).
Fast Results
Very good results in a short amount of time. Faster than potassium permanganate, chlorine, hydrogen and peroxide.
Most Effective
Ozone is the most effective natural bactericide and virucide of all disinfecting agents available.
Great for Long Term
UV rays plus ozone, the longer the system operates, the more the ozone  destroy ammonia and nitrogen present in the water.
The products of Swiss Thai Water Solution Co., Ltd.
Our products continuously operating in 38 countries worldwide.
Water vending machine
Our automated water vending machine made from high reliable materials, featuring a wide range of options.
Swimming pool treatment
Combining Ozone and UV-C treatment is the key to treat a wider spectrum of microorganisms. Ozone will particularly reduce the concentration of organic matter in water.
Water treatment
Compact and efficient water treatment unit Ultra-Bio-Ozone® for simultaneous use at 6 water dispensing spots; ready to set up and adaptable to the water requiring treatment.
Bain Nordique (Hot Tub)
Its body is made from red cedar wood from Canada, it can welcome  up to 10 seats. You can choose the grade of stainless steel (304 or 316).  Featuring massages intensity control, lights colors management, silenced filtration system, while  respecting the environment.
UV stainless steel sterilizer and Ozone generator
Glossy polished interior allows an optimal reflection of UV-C. They are equipped with an electronic ballast for a longer life of the lamps
WATER TREATMENT SYSTEM for drinking water
ULTRAFILTRATION / UV STERILIZER SYSTEM
Essentiel'Eau: ACS I, ACS II, ACS III
Flow Rate: 7,200 – 14,400 liters per day /  3,804 – 19,020 gallons per day.
Additional features: Multi-Spectrum Coagulant and Flocculant for eliminating manganese iron color.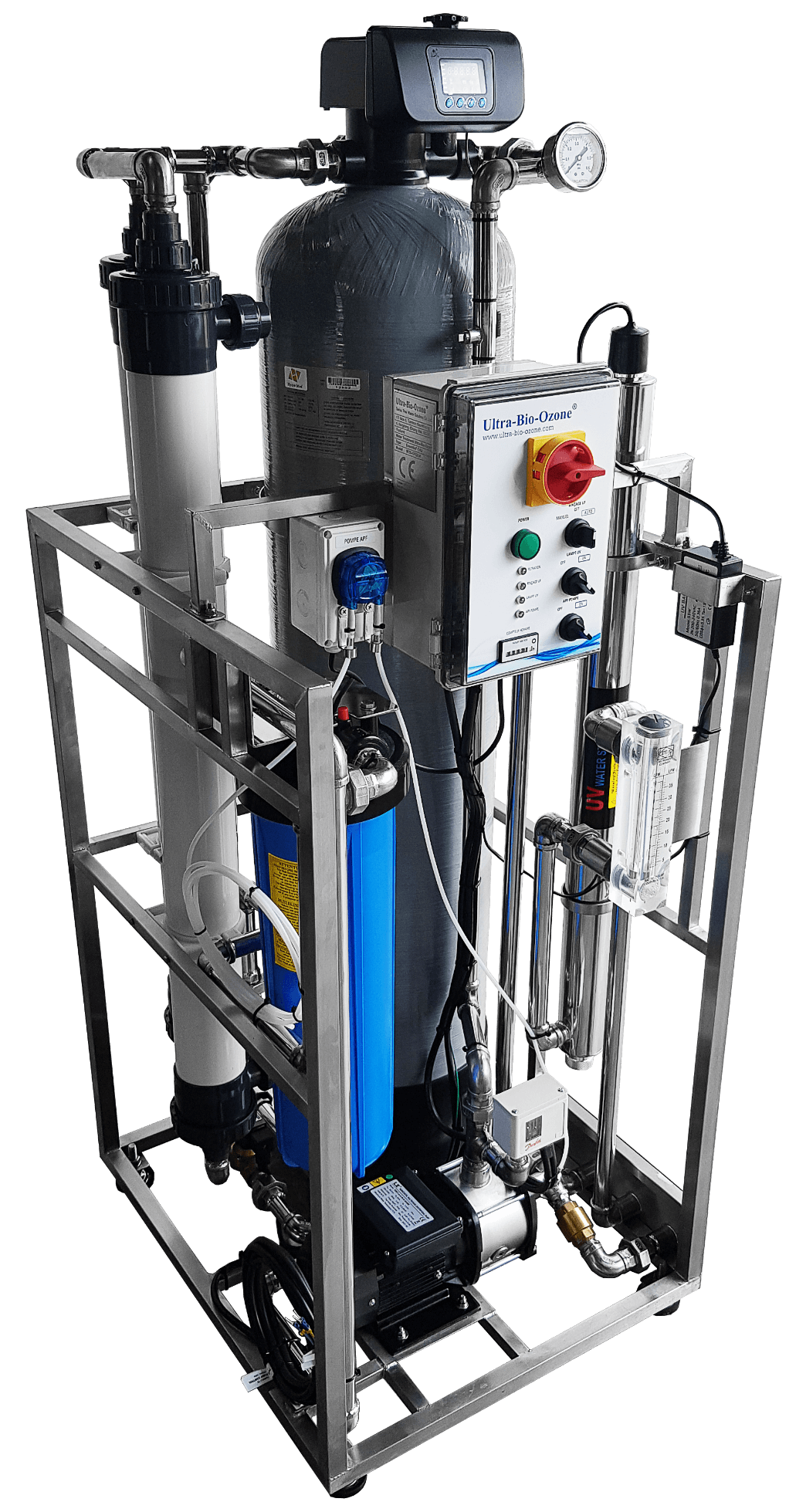 Please do not hesitate to Contact Us, if you have any Further Questions or Concerns.