The drinking water distributor accessible to all
the urban fountain new generation
AquaVille (Water vending machine) is a free drinking water distributor accessible to all. Modern and elegant, the new generation urban fountain by Ultra Bio Ozone® is a real economic, eco-responsible and sanitary solution. At a time when mentalities are increasingly concerned and laws are moving more and more towards environmental respect and non-wastefulness, guaranteeing access to free drinking water for all is becoming essential. Especially during periods of high heat. Multiplying the number of free and quality water points in public spaces (streets, squares, gardens, beaches, museums…) improves the well-being of city dwellers, but also the image and attractiveness of your town.
AquaVille body
1.) Manual control button for bottle filling (optional)
2.) Intuitive location for bottle filling
3.) Manual control button for filling the pet container (optional)
4.) Container for pets to quench their thirst (optional)
5.) Control pedals to ensure compliance with sanitary standards (one on each side)
Quality water accessible to all
Drinking water distributor : Water vending machine : eco-responsible
Simple and intuitive, the use of the the AquaVille urban fountain requires no electrical connection and very low maintenance. Its water treatment system (optional) is composed of an ultra filtration membrane at 0.01 micron leaving no chance to bacteria, yeast and most viruses, as well as activated carbon filtration for the removal of heavy metals and smellings providing a mineral surplus beneficial for the body. Its dedicated pet waterer is particularly practical throughout the year, but even more so during the hot seasons or during heat waves. Sturdy and solid, AquaVille urban fountains have been designed to withstand bad weather, extreme temperatures, humidity, but also to the damages that urban furniture can undergo. They are ideal for sports centers, aquatic centers, schools, associations and companies.
an eco-responsible approach
In 2016, 480 billion plastic bottles were sold while in 2004, this was still 300 billion. Now, one million plastic bottles are sold every minute and the number of bottles sold yearly will increase to 583.3 billion in 2021. Less than half of all purchased plastic bottles in 2016 were collected for recycling. Only 7% of these bottles went to make new PET bottles. It is estimated that every year between 5 and 13 billion kilos of plastic waste ends up in the ocean – the equivalent of one full garbage truck every minute. The AquaVille urban fountain is an ideal solution to accompany city dwellers towards the use of reusable bottles or which are becoming increasingly popular due to their environmental friendliness and their ability to replace hundreds of disposable bottles per year. With daily cleaning, the lifespan of a reusable bottle can be counted in years.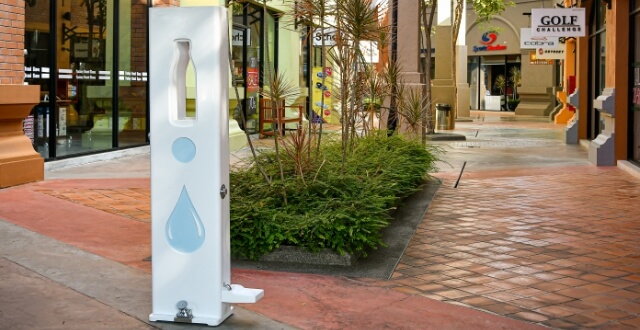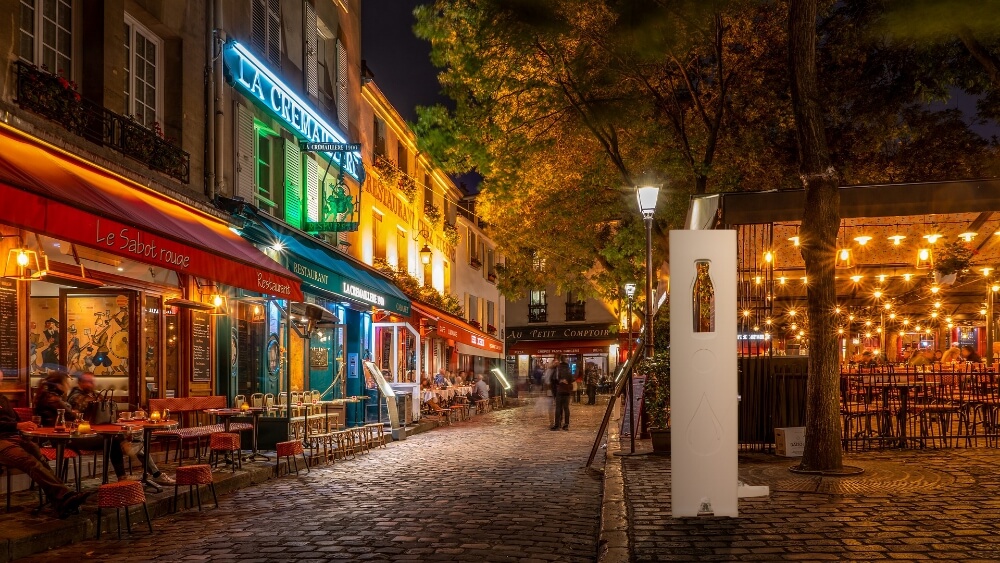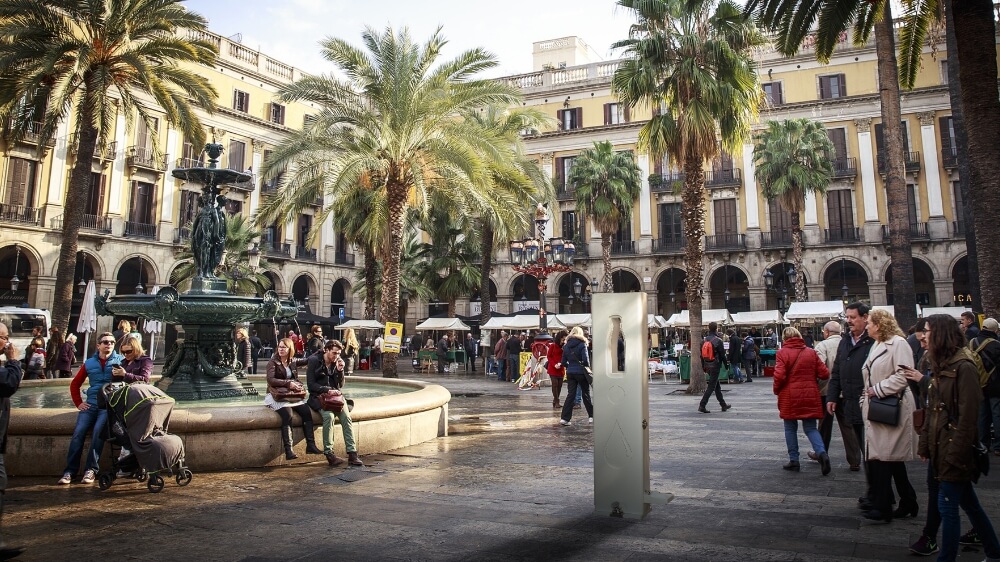 Dimensions
: H 170 x W 40 x D 20 cm
Filling compartment
: H 40 x W 12 x D 20 cm
Filtration
:
Ultrafiltration: 0.01 micron
Activated carbon: 5 microns
Water flow rate : 1.5 liters per minute
Power consumption: no
Fiberglass coating
2 pedals for bottle filling
1 press button for bottle filling
1 press button for filling the container dedicated to pets.
Requires: A water supply (pressure less than 45 PSI + 1/2" NPT female connector) Two waste water outlets (1/2" NPT female connector). One for the automatic rinsing of the UF membrane, another for the evacuation of the excess water in the filling compartment.
an infiite choice of colors